Applications of Superfine Ball Mill Production Line LHM:

Our superfine ball mill production line can be used for producing:

(1) Soft materials: calcite, marble, limestone, kaoline, gesso, barite, coal ash and slag, etc.

(2) Hard materials: carborundum, brown corundum, superfine cement, zirconium sand, and fire-proof materials, etc.

(3) High purity materials: quartz, feldspar, α-alumina, glass fine bead, etc.

(4) Metal powders: zinc powder, aluminum powder, iron powder, and molybdenum powder, etc.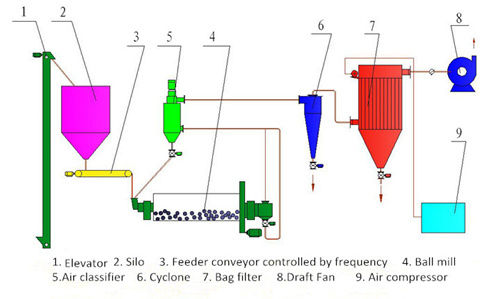 Features of Superfine Ball Mill Production Line LHM:

1. Low energy consumption: our LHM superfine ball mill production line adopted high advanced energy-saving technology and classification technique; as a result, our production line can save over 40% energy for producing same quantity materials.

2. Several times of classification could be obtained:
Finished product fineness after first time classification: 300-2500mesh; if our ball mill production line is equipped with a second classification system, the finished product fineness after second time classification would be 6,250mesh (d97≤2um).

3. Adopted highly advanced self-diffluent classification system:

(1) The classifiers in LHM ball mill production line have a precise classification, so the produced materials have uniform fineness;

(2) High classification capacity: 100t/h;

(3) Low energy consumption: For classifying the same quantity of raw materials, a classifier in LHM ball mill production line can save about 40% energy comparing with traditional ball mills.

(4) High classification efficiency (50% higher than classifiers in traditional grinding mills)

4. Scientific grinding medium enable us to produce large quantity superfine particles.

5. Different lining boards and grinding mediums are available for milling different materials, so as to guarantee the purity and whiteness of finished products.

6. Scientific machine structure enables a lower investment cost;

7. Low failure rate and stale operation: because our ball mills and classifiers in the production lines are VFC controlled and have high automation;

8. Negative pressure production condition gives a good production environment;

9. High annual production capacity: 5-500 thousand tons.

Note: We have prepared two sets of ball mill production lines in our factory to do any industrial testing!

Working Principle of Superfine Ball Mill Production Line LHM:
1. Material feeding: After the materials are roughly crushed, they will be fed into the ball mills.

2. Impact grinding: when the milling chamber is rotating at high speed, grinding medium and grind-need materials, which are also rotating, will impact with each other; thus to achieve impact grinding for materials;

3. Classification: after the materials are crushed, they will be discharged into self-diffluent classifiers. And then the relatively coarse and fine powders will be separated. Qualified powders will be collected; and unqualified powders will be re-crushed.
Note: Cleaned gas will be discharged by induced draft fans.

Applications Cases: